Baker's Acres Campground was founded in 1968 by The Baker Family. Read on to learn about the history of our campground and the people who started it!
A favorite quote of Jack Baker is by the great Greek philosopher, Plato. He once said "Necessity, who is the mother of invention". That is almost the perfect quotation to describe the birth of Baker's Acres. To fully describe it, you must add a few other words, such as desperation, determination and passion. All that and then you have to add a touch of insanity, as well.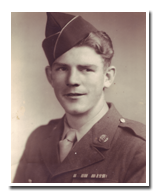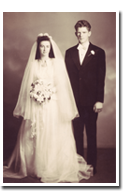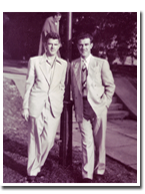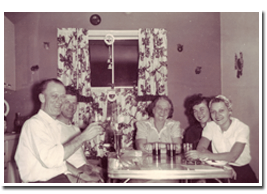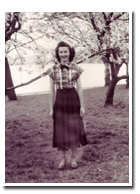 Anne and her family came from a very modest home on a farm in Cranberry, NJ. All sixteen of the children worked the farm, and many of them had jobs off the farm as well to help support the large family. John "Reds" Baker and Anne Cier's meeting was an arranged meeting, thanks to Anne's sister. Reds was stationed at an Armory/Ammunitions Plant where Anne had just started working as a receptionist. She was still a senior in high school, on the cusp of graduation. Anne's two sisters also worked at the Ammunition plant. Maggie, Anne's older sister, introduced Anne to Reds. Reds also came from a modest background.
After only a few meetings, Reds was sent to war. In World War II, Reds was in the 3rd Armored Division and drove a tank. The 3
rd
Armored Division is now known to have lost more tanks than any other Division during the war. While in Germany, he drove his tank during the Battle of the Bulge and lost a lot of brave friends and comrades to the war. All during his deployment, Anne and Reds sent letters regularly. Even having only dated a few times, Anne and Reds knew they were meant for each other. After the battle, it is said that his Unit was scheduled for Japan, and all expected that he would be heading there next. However, one day Anne received a call from Reds saying, "I'm home!"
In 1946 they were married in Hightstown, NJ.
The next several years would be full of trials and hardships for the Bakers. Reds worked for the Railroad out of Morrisville, NJ where he was laid off every winter. After they were married, they lived in Hightstown for a while. It was there that the first of the Baker children, Carol, was born. They would move several more times; from Hightstown to Metuchen to Massachusetts to Trenton and then finally to Levittown in 1951. In Levittown Anne and Reds purchased a house and settled in. The rest of their children, Gail, Jack, Rich and Debbie were born in that little Levittown home. Striving to make a better life for their family, they took up an offer by Reds' brother to move to the state of Washington. Reds had been laid off again, as was quite common for that era in America. There wasn't enough work to keep him on. The promise of being able to build homes and support his family was enough for them to take the risk. The family rented out their house in Levittown and made the trip across country. Although the construction promise didn't work out, Reds got a job with the Operating Engineers Union. He even helped with the construction of the Seattle Space Needle.
Although Reds had found work in Washington, the family was not happy. It seemed to rain more than anything else and the little Baker children were stuck in the house day after day. Anne and Reds decided to move back to Pennsylvania but there was no money to do so. Anne, being a true entrepreneurial spirit, took a class on making wood fiber flowers. Reds would sell the corsages she made to his friends and co-workers. By pinching pennies, making those delicate wooden flowers and even borrowing a little where she could, they were able to finally move back to their little house in Levittown.
Desperation set in when there seemed to be no end to the lay-offs each winter and waiting in government surplus food lines. One day, Anne noticed an advertisement in the local paper for a camping club right in Levittown. Their limited income meant that vacations were out of the option, as was any sort of frivolous spending. By making her wooden flowers and by direct-selling cloths such as Queensway and Beesline, Anne was able to save enough money for the family to buy a camping trailer. In the summers the Bakers loved to go camping, first in that little travel trailer and then in a big old canvas tent. That passion turned into a determination to someway, someday have their very own campground.
They would discuss where their "campground" would one day be. Should they buy in the mountains or at the shore? The conversation would go round and round. Anne's mother wisely said, "Go to the shore. There are a lot of mountains between here and the other side, but only two oceans." The touch of insanity mentioned earlier came in when they thought they had a chance to buy acreage down at the Jersey shore. They had no money to start a business and even less experience. However, it seems as if fate had plans when they had a chance encounter with the Mayor of Barnegat, NJ, Mr. Elmer Seaman. Reds and Elmer became the greatest of friends. Reds confided in Elmer of his and his family's campground dreams. As it turned out, Elmer's father owned land in Parkertown, just minutes from the shore. Encouraged by Elmer's father, the two friends went to walk the property. Reds instantly fell in love with the old growth forest, the sandy soil, and the pristine beauty of the land. The Seamans' loved the Bakers' family values, vision and determination. It was settled. They sold the land on a handshake. Being good people, the Seamans' set the price fair and held the mortgage with no interest.
In 1965 Reds, Anne and their five children moved into a small house they had built on the new acquired property and started working the land with hand tools. Reds worked for Bass River State Forest during the day, did as much side work as he possibly could on his own time, and with every other waking moment he, Anne and family would work at the campground. Anne continued to sell her clothes and stretched every penny to its fullest.
Baker's Lane was the first road to be completed. When both ends of the road met it was a milestone not to be forgotten and modest celebration broke out. Reds and Anne even enjoyed some Iron City Beer while they celebrated alongside their family and friends. In 1968, with only 46 campsites, an "Open" sign could be seen hanging on the entrance gates for the first time. Everyone was elated. Families immediately started camping at Baker's Acres and there were smiles for everyone. It seemed as if their dream had finally come true.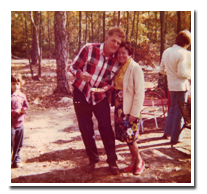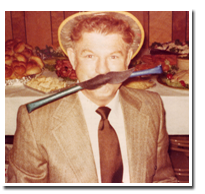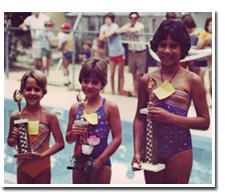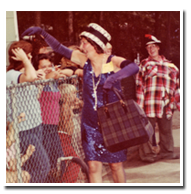 Yet as with most great stories, the happy times that surrounded the grand-opening were short lived, and that was in thanks to some local politicians. They wanted the land where the campground sat, but Mr. Seaman would not sell it to them. The politicians told Reds they would get the land, one way or the other, and they meant it. After the Bakers were given the "green light" from the township to start the campground, they quietly rezoned the land and closed the campground down for non-conforming use.

Reds and Anne were harassed and driven to the verge of bankruptcy. They were forced to sell everything they had just to pay court costs. The fight against City Hall went on for two very long years and seemed to be a losing battle. If it wasn't for Anne's tenacity and a great honest lawyer who took a stance against evil to help the little guy, then the township may have won and there would be a sandpit in place of Baker's Acres. That lawyer was Guy Alamo from Toms River, NJ. He worked for free, with a promise from Reds and Anne that they would send small payments when they could afford to do so. He saw the shake down the township was putting the Bakers through and after those two years of hard fighting and gritted teeth the Baker family won and reopened the front gates in 1970. But the fighting came at a cost; there was no money, no equipment and no campers.

Once again, the labor of love began. Sites were carved out of the land with every free minute the family had. Car lights and lanterns were often used to extend the work well into the night. Again, the family went without, wherever possible, so that any penny saved could be invested into the land. Slowly the campground grew from the original 46 into 101 campsites. Along the way, every camper became a personal friend and was considered part of our extended family. Reds was known to stop in at campers' sites, sit with them by the fire and take a moment to enjoy what was finally achieved. Since moving to the area, the family worked hard to become active members in the community. Reds become an upstanding member of the West Creek Volunteer Fire Company, as did Jack. In retrospect, those seven years must seem like the golden hour. The family was together, supporting one another, turning dreams into something real. It was still a hard life, but it was a happy, rewarding type of hard. The kind of hard that you know blesses people along the way.

July of 1977 was a beautiful month, and the 22
of July was one of its nicest days. It started with crystal blue skies and warm breezes. The campground children were running about and their voices were carried up in the air with the song of the summer birds. Reds and Jack were hard at work; Anne could be found in the office. Everyone was going about their normal day-to-day tasks. No one could have ever guessed that fateful date would be the darkest of our history. There was no way to know. When the fire whistle was sounded, Reds and Jack quickly responded. By day's end, four brave Firemen from Eagleswood Volunteer Fire Company would fatally fall, never to rise again. They were the victims of a raging forest fire in Bass River State Forest, the very place that Reds had worked while the family established Baker's Acres. The fire was started at the hands of an arsonist who has never seen the justice that is so deserved. One of those four Firemen was John "Reds" Frank Baker. Upon hearing this news, the air was sucked out of the Baker family forever. Never again would Reds greet his beloved campers with that big smile and shake their hands with his own gentle, bear-sized hand.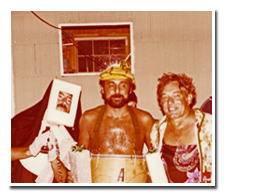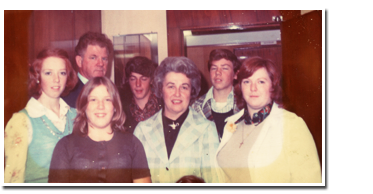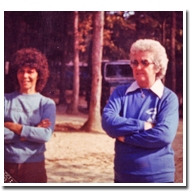 The family was devastated, but they were born strong. They pulled together to pick up the pieces the best they could, with Matriarch Anne Baker leading the way through teary eyes. The whole family did so much and worked so hard; they gave all they could. Jack Baker was 20 when they lost Reds. Jack grew up working at his father's side; Reds' "little buddy". Now, he had to step into some very large shoes. Gail Baker was by that time Gail Brenner. She and her husband Conrad were instrumental in the work and the motivation the family needed. Jack and Anne ran the day to day; Gail and Conrad would be at the campground on weekends and as often as possible. Carol and her husband Dave Driscoll helped out a lot, too. Richard was young, and helped for a while. Debbie was only 14 at the time and did what she could.
Even through the grief of their loss, the Bakers continued to improve what was before them. A few years later, Thomas Cramer, a long time camper, began working with Jack and Anne to increase the size of the campground to 250 sites. He also helped to add a new pool and Recreation Hall. Tom was a motivated man with big ideas for the campground. Although he and Jack butted heads more often than not, it was clear that Tom cared greatly for the campground and for the Baker family.
In another twist of fate, the Tindall family, from Franklinville, NJ, had started camping at Baker's Acres when they were evacuated from Bass River State Forest during that terrible fire. Jerry and Marie Tindall immediately made the campground their new "go-to" destination. In 1981, Jack married Maureen Tindall, their youngest daughter. She was a natural fit and a huge asset to the campground and to the family. She grounded Jack in a way that he never knew he needed. Maureen, or "Mo" as she is known to most, learned the business from the bottom up and excelled in it. A few years after she Jack and were married, Tom and Anne retired. After being "silent" partners for some years, Anne sold the campground to Jack and Maureen in 1991.
As the years passed, Jack and Maureen had three children, Monica, John and Jason. The three of them would happily tell you that growing up in a campground was the best gift their parents could have ever given them. The friends they have made and the people they have met along the way have truly shaped them into the adults they have grown to be. All three are actively involved in the campground and have their own dreams of continuing the improvements that the generations before them started. Johnny is a natural "people-person" with patience and empathy. He married Katie Kendra in April of 2014. Jason has spent is whole life with a mission to make the people around him happy and light their faces up with laughter. Monica is now happily married to Mike Frazer, originally from Cape May. They even have three of their own little guys, Michael, Matthew and Malcolm, whose love for the campground is already strongly present. They never tire of being at Baker's Acres, especially when they get to be with their Grandparents and Uncles!
Since Jack and Mo purchased the campground, they have continued to grow and expand the sites, the activities and the amenities. One of Baker's greatest pleasures is seeing their return campers every year. With over 250 camp sites, one would think it would be hard to keep track of the Seasonal and return campers. But, it is not. The Bakers value them all. They know that without the people who call Baker's Acres their "home away from home" they would not be here. It is their motto, "Where Friends Are Made for Life" that they have been and continue to live by. It is a blessing for them to see the faces of the children who have spent their summers at the campground, now adults, bringing their own families to Baker's Acres. Memories have been made there. Friends have been made there. Generations, new and old, return there. God willing, Baker's Acres will see another 40 years, with new generations, new memories and new friends.
As Abraham Lincoln once said, "I like to see a man proud of the place in which he lives. I like to see a man live so that his place will be proud of him."
The Bakers say, "We are proud of Baker's Acres. We like to think that Baker's Acres is proud of us."
History of Little Egg Harbor
Originally part of Burlington County, Little Egg Harbor took its name from the portion of a bay called Egg Harbor (known today as Little Egg Harbor) by the Dutch sailors because of the eggs found in nearby gull nests. The first known account of the town was made by Captain Cornelius Jacobsen May in 1614.
The first European to settle the township was Hendrick Jacobs Falkenberg, who likely arrived by 1693 when he does not appear on a census of the Swedes along the Delaware River, where he had lived for nearly three decades. Though he was from Holstein (now in Germany), his first wife was a Finn and part of the Swedish community. Falkenberg settled on an 800-acre tract of land that he had acquired from the Lenni Lenape Indians in 1674, and a 1697 deed re-confirmed this earlier purchase. This tract included the two islands of Monhunk and Minnicunk later known as Wills Island and Osborn Island.
Falkenberg was a linguist, fluent in the Lenape language, and was considered southern New Jersey's foremost language interpreter involving land transactions between the Indians and the European settlers, particularly the English Quakers.
In October 1778, the Little Egg Harbor Massacre took place as Patrick Ferguson was wreaking havoc on Colonial shipping in the Mullica River. Kazimierz Pułaski and his newly raised forces were ordered to oppose his actions. Pulaski's Legion, along with three companies of light infantry, three troops of light horse, and one artillery detachment, came too late to be of great use against Ferguson's operations. But their arrival did stop Ferguson from raiding the iron works at Batsto, and stemmed their attacks on privateers at The Forks of the Mullica River.
They then set up camp on a farm. A deserter, Lt. Gustav Juliet, found Ferguson and told him of Pulaski's encampment; he mentioned that morale was fairly low, and security almost nonexistent, so that a surprise attack would be devastating. Ferguson promptly loaded 250 of his best men onto boats and rowed them, in the dark, some ten miles (16 km) to Osborne Island. He then marched them a further two miles (3 km) to the site of the infantry outpost, which comprised fifty men a short distance from the main encampment. At first light, Ferguson ordered the attack; only five of his quarry were taken alive. Pulaski eventually led his mounted troops up, causing Ferguson to retreat to his boats minus a few men that had fallen into the colonists' hands. A memorial on Radio Road commemorates the attack.
One of the first recorded ships of the township was a sloop belonging to Thomas Ridgway Sr. John Mathis Sr. also had a ship which his son, Daniel, sailed the West Indian routes. They made a profit from selling clams and oysters.
The 825 foot Tuckerton Wireless Tower (39.5585°N 74.3706°W) was built in 1912 by the German "Hochfrequenzmaschin Aktiengesellschaft Fuer Drahtlose Telegraphie" company (The High Frequency Machine Corporation for Wireless Telegraphy, often referred to as HOMAG) when the present-day Mystic Island was called Hickory Island. The tower was used to communicate with an identical radio telegraph station in Eilvese, Germany starting on Jun 19, 1914, less than two weeks before the assassination of Archduke Ferdinand. The station continued to communicate with Eilvese until America entered World War I on April 6, 1917. It is rumored that it was used to send the message to order the attack by a German U-boat on the RMS Lusitania. After President Wilson's Declaration of Neutrality, the President ordered the US Navy to take over the station on Sep 9, 1914 to assure the neutrality of messages sent to and from the station; however, the station continued to be operated by German nationals employed by HOMAG and continued to communicate only with the Eilvese radio station.
When America entered the war, all U.S. radio stations were seized and shut down by Executive Order. The remaining German personnel at Tuckerton immediately became war prisoners and were replaced by U.S. Navy personnel. The Navy used the Tuckerton Radio Station for transatlantic communications while the naval radio stations in New Brunswick, NJ and Sayville, NY were undergoing major transmitter and antenna upgrades. Tuckerton was used for fleet broadcasts after installations of 200 kilowatt transmitters at New Brunswick and Sayville were completed in June, 1918.
After the war, the Tuckerton Wireless Station was included in German war reparations paid to America. Shortly afterwards, it was sold to RCA which operated it until 1948 as a backup to their famous Radio Central facility in Rocky Point, New York. In 1921, RCA installed two massive Alexanderson alternators, which were removed in 1948. For transatlantic communications, the radio station operated under the call signs WCI and WGG. For coastal communications, after World War I, the station operated under the callsign WSC. The 820-foot (250 m) steel tower, anchored by three large concrete blocks, was taken down on December 27, 1955. The three huge anchor blocks still exist today, in a backyard on North Ensign Drive and in the middle of South Ensign Drive and Staysail Drive. Many smaller anchor blocks providing foundations for smaller towers visible in this photo, that supported the umbrella antenna are still visible in the lagoons. Remains of the large tower can be seen in scraps at the Giffordtown Museum. ~ courtesy of Wikipedia and www.leht.com.