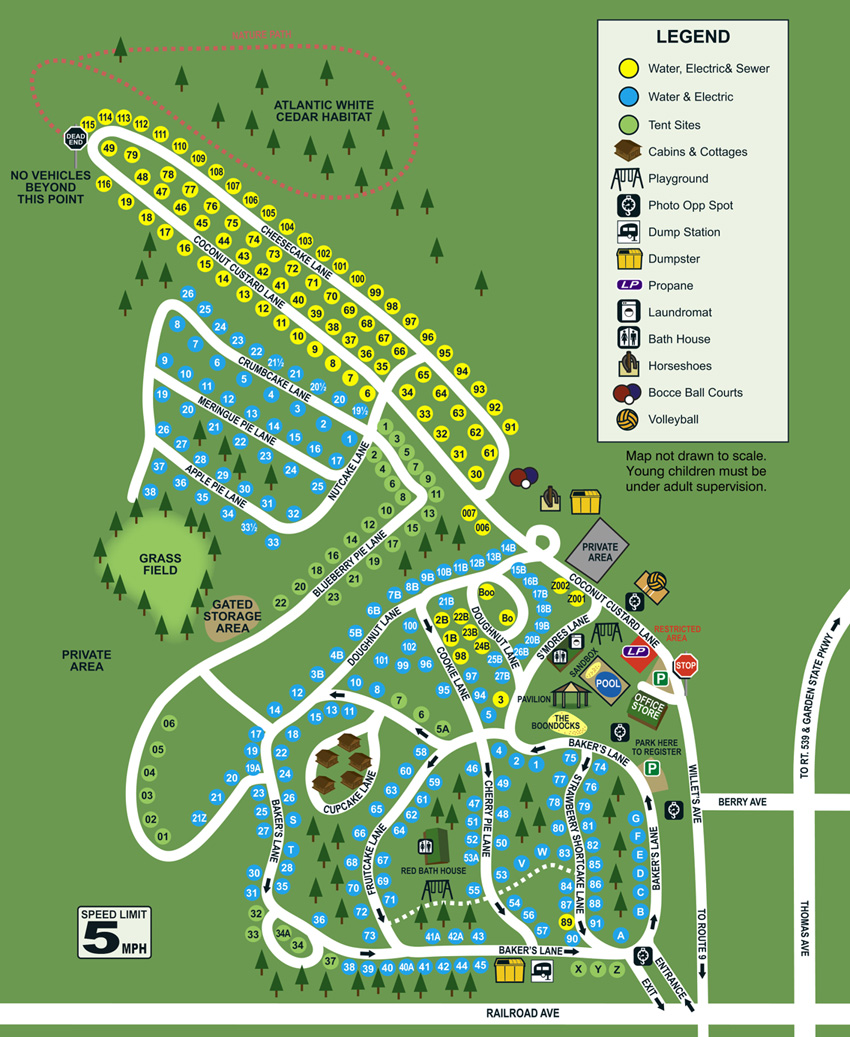 You may click on the map to view and print a larger PDF version.

(1MB file. Requires Adobe Reader.)
Camping Guidelines
Check-in time 2:00PM (4:00PM Cabins / Cottages). Check-out time 1:00PM (12:00PM Cabins / Cottages). Absolutely no check-ins after 11:00PM! Early arrivals or late stays: 1/2 Day charge. Please notify the office if you plan to do so beforehand. Holidays: Advance reservations are necessary and must be paid in full in advance. 3 night minimum on sites.
Only one camping unit per site. Guests must be 21 or older to reserve a site (unless bringing own children). Two day minimum reservations (excluding holidays).
Guests - Guests of campers must register at the office and pay the appropriate guest fee. Anyone visiting a site who did not register with the original party must pay. Guests must leave the campground at their assigned check-out time. Anyone not paying guest fees before entering the park will be charged double. Campers or Visitors who will not comply with the list below or posted rules will be required to leave the campground. No refunds.
Speed Limit - Everywhere in the park is 5 MPH. Violators will be asked to leave the park. Two vehicles per site if room. Additional parking is provided in the parking area. Never park on a vacant site.
Alcoholic Beverages - Permitted in the camp sites only and in moderation. Underage drinking will not be tolerated.
Pets - Well Behaved Pets are permitted in our campground and allowed in all areas of the campground except Cabins, Cottages, Store and Pool / Playground Area. Please keep your pets leashed, attended at all times and clean up after them. We highly recommend having proof of your pet's vaccines / inoculations with you on your camping trip.
Bicycle Riding - No bicycle riding after dark or during night time activities. By NJ State Law, minors are required to wear bicycle helmets.
Motorcycles - Positively no motorcycles, mini bikes or ATV's permitted in the park.
Tables and Fire Rings - Tables and fire rings are not to be moved from one site to another. Campfires must be kept small, kept in one ring and put out by 12:00AM before retiring or vacating site.
Firewood - No outside firewood is permitted in our campground. Gathering of firewood from other sites is not permitted. No cutting, nailing or damage to any tree or plant life is permitted, dead or alive. For more information about the hazards of transporting firewood, please visit

http://dontmovefirewood.org

.
Golf Carts - Outside golf carts are not permitted in our campground unless prior approval is given. If you with to bring a golf cart into our campground, please contact the office first. Allowances are only made for those people who require a golf cart for medical reasons. We do not allow gas-powered golf carts.
Firearms - Positively no firearms, guns, fireworks, sparklers or any type of explosives are allowed.
Refuse - All refuse is to be put in bags and disposed of by you in the dumpster in the park, not in the fire rings.
Minors - Minors under 18 must be kept under control. They may never be left in the park without a parent or designated responsible adult. All minors under 18 are prohibited from playing around restrooms and laundry facilities. Parents' cooperation with us will make this park a happy and safe place for all campers.
Refunds - There will be no refunds for early checkout for any reason, including weather.
Quiet Hours - Quiet hours are from 11:00PM until 8:30AM. Courtesy must be shown to other guests by keeping noise and disturbances to a minimum. Any children under 18 years must be on their sites by 11:00PM. Loud noises will not be tolerated at any time.
Recycle - It's the law! There are marked cans throughout the park; please use them and recycle aluminum, plastic and glass.